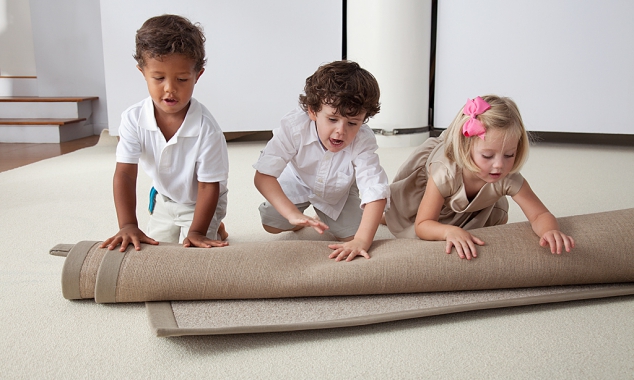 How to choose a rug for the nursery. When furnishing the nursery, remember that furniture should first of all be safe, stable, and should encourage the child to play, and later on learning.
Find the Right Type of Kids Rug
The first step toward finding the perfect kids rug is choosing the type that will best fit your needs. Kids rugs vary in type from regular rugs, in that they are more interactive and involved than the type of rug a typical adult is searching for to enhance his/her home. Kids rugs are designed to inspire entertainment, learning, exploration and much more.
Area Rugs
This is the most common type of rug coming in many shapes and sizes from round to rectangular, square to oval. It can be used in many rooms from the house or school from a bedroom to a classroom. This is good for the person who is either just looking for a way to cover a bare floor, or someone who would really like to add some fun to their childs life.
Classroom Rugs
These are, as the name describes, rugs that are meant for the classroom. They can be educational, game-oriented, created with the image of a map on them or are one of many other variations. There are classroom rugs of all types, from musical to mathematical to alphabetical and beyond. They range in size, color and theme, but will always act as a tool to help to promote an inspirational learning environment.
Carpet Tiles

Carpet Tiles, which are not to be confused by carpet squares, are an offering from Joy Carpets, Inc. that allow you to plan out the carpet to whatever specification and design you like. Carpet tiles are smaller sized square carpets that are placed alongside other tiles to form a carpet, and a unique design.
Carpet Squares
Coming in sets, carpet squares are the perfect idea for a fun and uniquely educational learning experience. Carpet Squares are squares of carpet that represent something specific, whether it be a number, animal, letter, etc. The squares can then be used in a variety of ways, from games to learning exercises.
Choose Your Favorite Kids Rug Style
Once you have narrowed down which type of kids rug may best suit your needs, it is now time to determine which style will function best in the intended environment. The rugs that we sell on Just Kids Rugs are multi-functional, serving not simply the purpose of keeping a plush feeling under your feet, but also serving as a game or a learning device for your child or student. While many styles may overlap due to the versatility of many of our kids rugs, we will do our best to simplify the major differences among our most popular styles.
Game & Play Rugs
These rugs are both fun and useful to place in either the home or at school. Each rug features its own unique and individual game or play atmosphere, whether it be travel town, matching numbers, sports, outer space or a variety of other interactive options. They are great for curiously active and imaginative children that are always yearning for more activity. Game & play rugs also serve as a low maintenance toy for your child or student, and will surely stimulate an educational exploration of fun!
Educational Rugs
Turn your home or classroom floor into a functional, learning device with one of these rugs. They are perfect for the classroom with their educational values, but are suitable for the home with their enjoyable atmosphere and educational games. While educational rugs are sure to entertain your children, you can watch reassuringly knowing that they are simultaneously gaining knowledge and developing their imaginations.
Contemporary Rugs

If you or your child has a keen and forward thinking fashion sense, then these are the perfect style rugs for you. Contemporary designs feature unique and modern looking patterns, as well as bold colors that will surely enhance your decor. The stylish design will only enhance the child-like wonder of the room, since many have the allusion of a far-away land or time that is truly enchanting.
Novelty Rugs
This style of rug encapsulates several genres of childrens favorite things. Encompassing a wide variety of unique designs and patterns, we offer a plethora of novelty rugs. Ranging in design from all-over shape patterns to specific themed rugs like beach fun, cowboys, swirls, happy faces and much more, any of our novelty selections will surely liven up the intended decor. If your child has a truly unique interest, then the novelty section serves as a great place to start your search!
Important Specifications of Kids Rugs
With the type and style already chosen, you are just a couple of steps away from getting a wonderful kids rug. Now you simply need to figure out the specifications and features of the desired rug, and you are all set! Here you will decide the size of the rug, the color of the rug and the construction of the rug, while figuring out whether the rug needs a rug pad or any other finishing touch!
Size: Choosing a rug size is a crucial part of your purchasing decision. While the rugs we offer often come in a multitude of sizes, you will need to do some work on your own to determine the size of the area that will feature the desired rug. Smaller rugs typically serve as accent pieces that can be moved around frequently, while larger sizes are typically chosen to remain in one place because of their desired function. Though determining size is critical to completing your purchase, it is certainly easy enough! All that youll need is a simple tape measure, and an idea of the general area that will ultimately house your rug!
Color: Choosing color is a little bit easier to figure out as it is very much your personal preference. Just remember that the primary color is the back, or most prominent color in the rug, not the pattern color if there is a pattern featured. Naturally, it is sensible to try to match this color with the existing décor of the room.
Rug Pads: Purchasing a rug pad goes hand-in-hand with the purchase of a rug. Though they are not necessary, they are certainly recommended. Rug pads are a functionally sound idea if you are concerned about the upkeep of your home or schools floor, while also protecting the rug itself. Rug pads are designed to be placed in between the rug and the floor and serve not only as an added cushion on the feet, but as an extra protectorate to the room. Most importantly, rug pads help to reduce slipping and sliding, and thus reinforce the safety of any active child.
Construction: Construction is a crucial part to consider when shopping for a rug. Most kids rugs have similar constructions, in that they are designed to be easily maintained. They are usually designed with polypropylene, latex or some other form of protector/preserver to aid with the longevity of the rug, and to handle the constant use and activity on the rug. Detailed information can be found regarding specific construction terms and more in our Kids Rugs Glossary.

Carpet cleaning Markovic we are