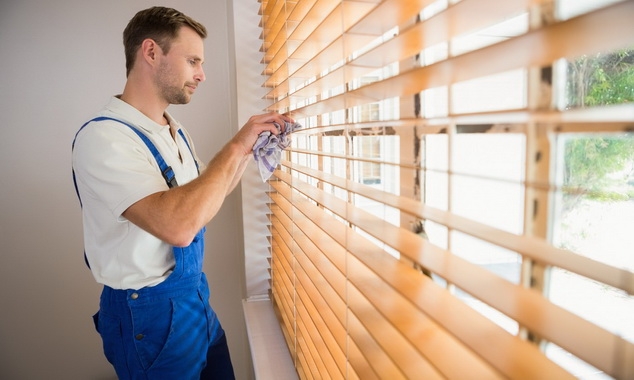 Vertical Blinds Price Guide, Carpet Cleaning Service Markovic.
VERTICAL BLINDS PRICE GUIDE
Blinds are one of the most popular window treatments available on the market. They are able to increase the privacy of any space, insulate it better to create a more energy-efficiency environment and add a design element at the same time. Traditionally, blinds are horizontal, which means that each slat runs from left to right rather than up and down. Vertical blinds, however, are a popular and attractive alternative that many homeowners want to consider. Before making a final decision, use this guide to learn more about the advantages and disadvantages of vertical blinds, the types of materials commonly used in vertical blinds, how to choose the right model, what to know about professional installation and what factors can influence the price of the finished product.
The Costs
Average Minimum Cost of Vertical Blinds: 60 cents per square (unified) inch
Average Maximum Cost of Vertical Blinds: $1.20 per square (unified) inch
Advantages of Vertical Blinds
While horizontal blinds may be the most common choice, there are still plenty of advantages to using vertical blinds in the home. Vertical blinds work especially well for large glass windows and sliding doors, they create a certain design aesthetic that many homeowners desire, they can be very affordable and they can move out of the way when needed. Vertical blinds first became popular in the 1960s when large sliding glass doors were installed in an increasing number of homes, and they were a practical way to reduce direct sunlight and increase privacy. They have remained a top choice for those looking for a simple, sleek and attractive way to cover large floor-to-ceiling panes of glass. Along with adjusting to be in the open or closed position, vertical blinds can slide to the left or the right, which either lets in more natural light or completely closes the room from the outside for maximum privacy. Finally, vertical blinds are available in countless colors and materials, making them versatile window treatments that can have a place in any home.
Disadvantages of Vertical Blinds
While vertical blinds have many advantages, there are also some drawbacks that homeowners should contemplate before making a purchase. They have the potential to be noisy when being opened and closed. When vertical blinds are pushed to one side, they can be bulky. Poor-quality vertical blinds can break easily, and style is slightly outdated and may only fit in certain home designs. Maintenance and cleaning can be time-consuming, and installation is trickier than for horizontal blinds.
Wooden Vertical Blinds
One of the most popular types of vertical blinds on the market is made from wood. If budget is no concern, then wooden vertical blinds can add elegance to any environment. However, wood is also susceptible to sunlight fading, mildew and humidity more than other materials, and this may cause them to require maintenance and replacement more often. Of course, this high-quality material also costs more upfront and may be beyond the financial reach of some homeowners, particularly when covering multiple windows or particularly large areas.
Metal Vertical Blinds
Homeowners who are on a limited budget might turn to metal vertical blinds, which are typically made from aluminum. This material wont rust easily, and it is incredibly easy to keep clean and maintain. However, larger slats can dent or crease over time, and there is no real way to fix this without replacing the slat entirely. Metal vertical blinds can be purchased in a variety of colors and thicknesses, but this is one material that might be noisy if there is a breeze in the home from an open window or a closing door.
Solid or Translucent PVC Vertical Blinds
PVC, or Polyvinyl chloride, is a synthetic material that is a top choice for the construction of vertical blinds. Designed to be strong and durable, PVC is available in a number of colors, thicknesses and translucency options to better fit the needs of the buyer. This material is also flame-resistant, making it ideal for childrens bedrooms. PVC vertical blinds can be made in solid colors that add brightness without losing privacy, or there are translucent options that let in more natural sunlight and give any space an airy, open feel.
Fabric Vertical Blinds
For a softer feel, some homeowners are drawn to the look of fabric vertical blinds. This material can be cleaned with a vacuum cleaner to remove dust, but larger stains and damage can be tougher to deal with. Anyone who wants the light and style of curtains with the sleekness of blinds will want to consider this fabric option, which can come in hundreds of potential colors and patterns to suit the design of the homeowner.
How to Choose the Right Vertical Blinds
There is a number of different questions that homeowners need to ask themselves before selecting vertical blinds for a room. Some of the most important issues to address include the following:
What is the budget of the project?
What is the overall design style of the home?
Will the same blinds be used throughout the house?
How long are the blinds expected to last?
What kind of maintenance is preferred?
After answering these questions, homeowners should be able to narrow down their options and pick the color and material for the right vertical blinds in their homes.
What to Know About Installation of Vertical Blinds
Installing vertical blinds is slightly harder than installing horizontal blinds, and the slats are traditionally larger and less easy to maneuver. However, it is certainly possible for individuals to install vertical blinds on their own. Installing by a professional, however, will run anywhere from $40 per hour and upwards, with the average labor cost for a project coming to over $500 for an entire home. Those short on time or without tools may find this a big advantage. It is important to have the blinds delivered when installation companies arrive, unless they are arriving together, and create a clear, pet-free space where the professionals can work on vertical blind installation.
VERTICAL BLINDS PRICE GUIDE, SERVICE MARKOVIC